Welcome to the GSUSBC store. You will find information on how to use our store and our procedures at the bottom of this page. 
Seattle Princess Tournament
PR-2019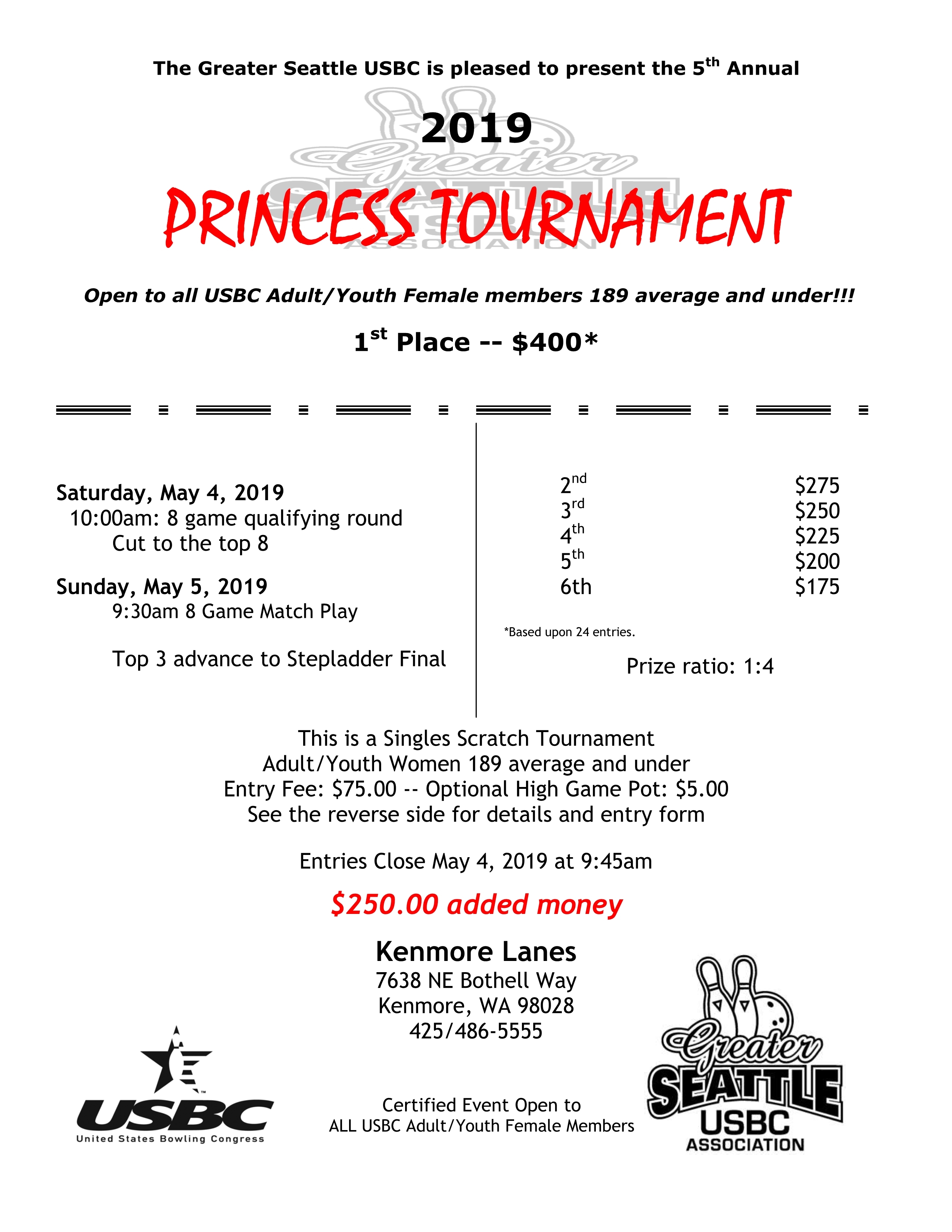 2019 Seattle Princess Tournament

WHEN: May 4th & 5th, 2019
WHERE: KENMORE LANES, 7638 NE Bothell Way, Kenmore, WA 98028
COST: $75.00 PER PERSON with $3.00 convenience fee for $78.00

BRACKETS & $5.00 OPTIONAL HIGH GAME POT available tournament day
Saturday 9th
10:00 AM CHECK IN

8:30 AM CHECK IN

9:00 AM START
SATURDAY: 6 Games of Qualifying
SUNDAY: Top 6 return Sunday for 6 Game Match Play Round.
TOP 3 BOWLERS ADVANCE TO TV STYLE ROLL OFF
OPEN TO ALL USBC ADULT / YOUTH FEMALE MEMBERS 189 AVERAGE & UNDER

May we text your phone with tournament updates?
Yes (0) No (0)
We would greatly appreciate a small donation to support some of our charitable causes
GSUSBC Youth Bowling Program's (+$1.00) (1) GSUSBC Youth Bowling Program's (+$5.00) (5) BVL- Bowler's to Veterans Link (+$1.00) (1) BVL- Bowler's to Veterans Link (+$5.00) (5) Bowl for the Cure - Breast Cancer Awareness (+$1.00) (1) Bowl for the Cure - Breast Cancer Awareness (+$5.00) (5)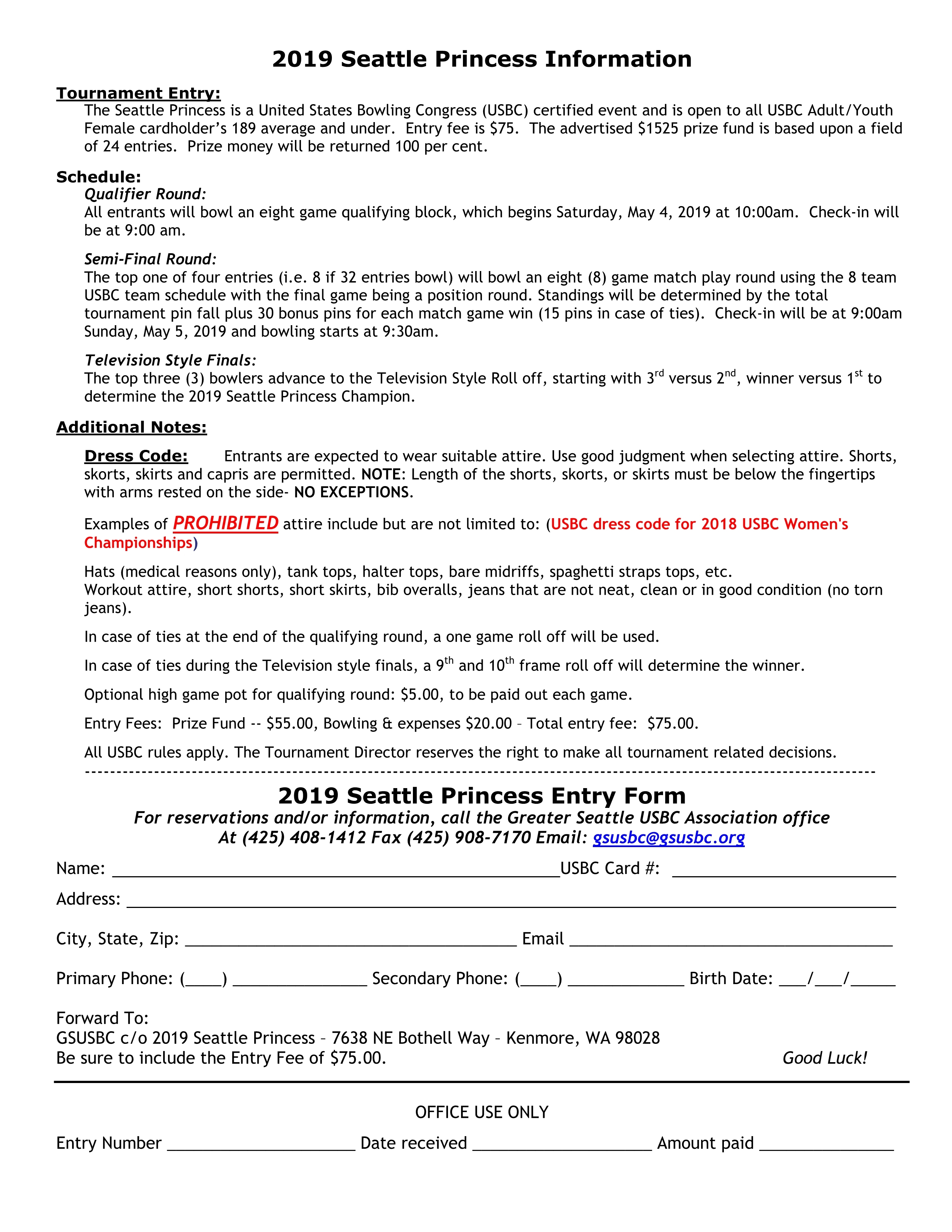 ---
YOU DO NOT NEED AN ACCOUNT TO USE THIS SERVICE.
JUST USE YOUR VISA, MASTERCARD or other CREDIT CARD AS A GUEST.
---
Refund Policy
A processing fee of $10 will be charged for cancellations made 5 days before
the event. There will be no refunds for cancellations made within 1 day of the event.
Refunds will not be provided for registrants who do not attend the tournament.
Notice of cancellation must be made via e-mail to: gsusbc@gsusbc.org.
A cancellation acknowledgement will be sent within 3 working days and fees refunded within 10 working days, subject to this Refund Policy.
As a customer you are responsible for understanding this refund policy upon purchasing any product or services at our web site. However, we realize that exceptional circumstance can take place with regard to the character of the product or services we provide.
Privacy Policy
Greater Seattle USBC. does not sell your personal information to any other companies. Again, personal information is strictly used to process orders and enhance your visiting, and shopping experiences while at our site.
We may disclose personally identifiable information in response to legal process for example, in response to a court order or subpoena. We also may disclose such information in response to a law enforcement agency's request.
Agents and contractors of Greater Seattle USBC who have access to personally identifiable information are required to protect this information in a manner that is consistent with this privacy notice.
We want to assure you we work diligently to protect against unauthorized disclosures of information. However, we cannot guarantee that personal information that is collected will never be disclosed in a manner that is inconsistent with this privacy notice.